P.R.I.M.E. Finance and World Justice Forum participants visit Dutch Supreme Court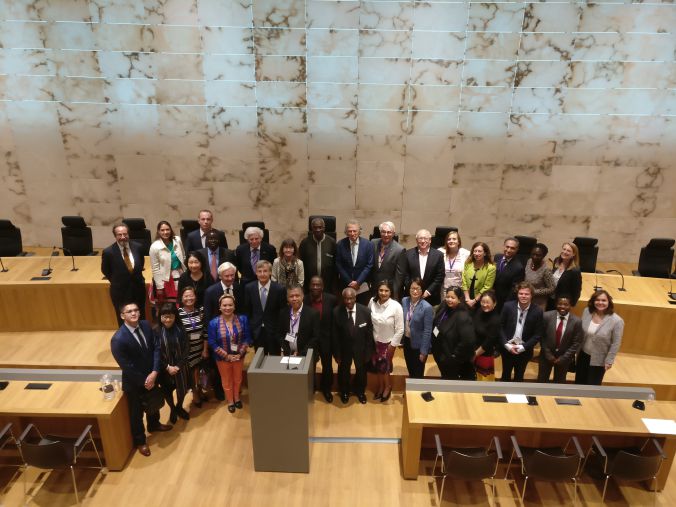 World Justice Forum participants and P.R.I.M.E. Finance representatives, together with Justice Maarten Feteris and Justice Ybo Buruma, in the main hearing room. Dutch Supreme Court. The Hague.
On Monday 10 July 2017, P.R.I.M.E. Finance, in coordination with the World Justice Project, organized a visit to the Dutch Supreme Court for 30 of the attendees of the World Justice Forum. This afternoon session was led by the president of the Court, Justice Maarten Feteris.
The visit took place before the start of the World Justice Forum's four-day programme and included an enriching explanation by Justice Ybo Buruma on the meaning and history of  the mural that is to be seen in the foyer of the Court. This introduction was followed by a presentation by Justice Feteris on the Dutch legal system and its differences with other legal systems throughout the world, and a further illustration of the workings of the system by Justice Buruma. The presentation, which was concluded by a diverse and interesting Q&A session, was very well received by the attendees. The audience was comprised, among others, of  lawyers, judges, professors and prison officers. Kristy Tillman, the Executive Director of P.R.I.M.E. Finance, Professor Jeffrey Golden, the Chairman of P.R.I.M.E. Finance, the Honorable Judge Elizabeth Stong and Dr. Willem Calkoen, Board members of P.R.I.M.E. Finance, also attended the event.
After the visit to the Dutch Supreme Court, the attendees returned to the World Justice Forum, where the Honorable Ruth Bader Ginsburg, Justice of the United States Supreme Court, opened the Conference with a talk that was moderated by the Dean of Stanford Law School, Elizabeth Magill.
The World Justice Forum is an international event for the rule of law. It assembles global community leaders from all sectors and interest and offers a platform for them to share insights, strategies and develop solutions for advancing equity, peace and opportunity through the rule of law.